Get Lost at Maize Adventure Corn Maze!
Need to practice navigation skills?
Want to build teamwork in your troop or pack?
Do your boys need to practice leadership skills?
Head to the Corn Maze with Your Cub Scouts and Boy Scouts
Looking for something fun and engaging for your scouts to do this fall? Searching for the six punch stations and exit while traversing tight paths in a cornfield maze provides an afternoon of fun with lots of twists and turns. Plus, Kersey Valley Maize Adventure Corn Maize offers the perfect opportunity for scout masters to accomplish their goals. Our yearly corn maze mystery game is fun for cub scouts and boy scouts of all ages.
Bobcat Scouts
Tiger Scouts
Wolf Scouts
Bear Scouts
Webelo Scouts
Boy Scouts
Build an A-Maze-ing Scout Team
Get ready to traverse through our acres of tall green corn stalks for an afternoon of "agri-tainment." Some paths will lead you to the next punch station, while others will lead you back to where you came from—or to a dead end.
Find the six punch stations and solve the mystery along the way. It typically takes up to one hour to find all six stations and exit the maze. However, if you're really good, it can be completed in less than an hour! During that time, your scouts can exercise navigation, teamwork, and leadership skills in a fun outdoor environment.
And if you wondering about getting lost, have no worries. We have trained staff who have memorized the corn maze over the past several months as it's been growing. You'll see Maize Adventure staff members throughout the maze as well as a few watching over the entire maze from one of our observation towers. You may not see them, but they can see you.
Double Your Fun with a Train Ride
In 2019, Kersey Valley Attractions is adding a train to your afternoon of fun—and it's included in your daytime Maize Adventure ticket. Peruse around our corn maize on a John Deere-green train that seats up to 104 people, and head into an "abandoned" mine shaft too. This treat has been all year in the making!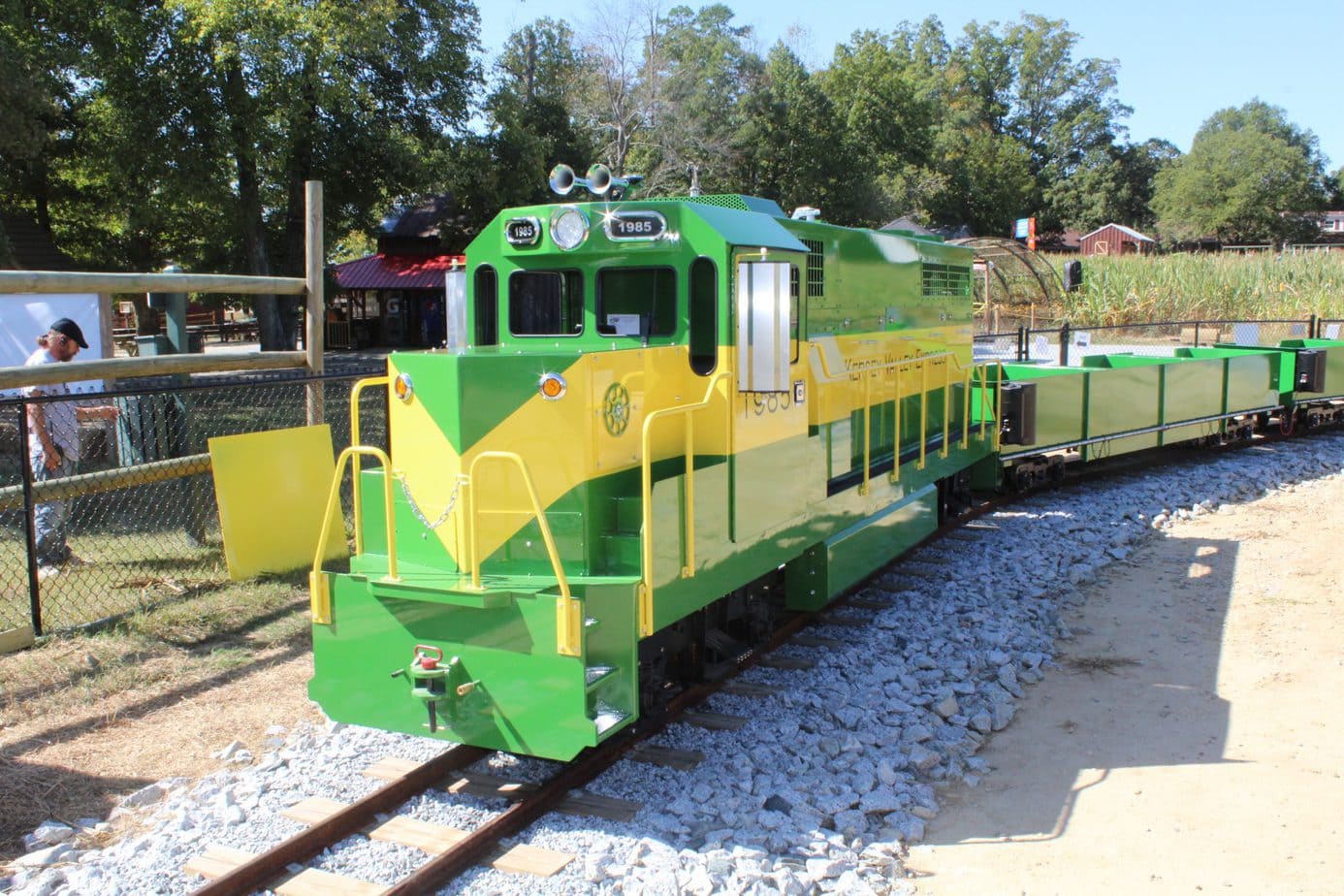 Make Heading to Maize Adventure Your Annual Scout Trip
Every year, Kersey Valley changes the design, so you've always got a new adventure ahead of you when you head into the corn. Group your boys with friends or mix them up with other age groups. Older boys can help lead younger boys, while pack members get to know each other in a challenging and fun environment.
So, come join us with your boys and "get lost" for an afternoon. Spend an hour or so traversing through the tricky paths of our destination Corn Maze. It's the largest in the Triad—and you're guaranteed the most fun.
After the Maze…
After you've conquered the maze and enjoyed a fun group experience, Kersey Valley Attractions still has more for your boys. Spend some time on our Midway, where you'll find lots of fall treats: our to-die-for apple cider donuts, kettle corn you won't soon forget (Eat some here and take a bag home.), lemonade, and more.
Be sure to let your scouts bounce their energy out on the jumping pillows (separated for older and younger kids), mine for gems, and check out the Pumpkin Patch and the Kiddie Zip Line (only operates in the fall for younger kids).
Scouts may also want to try a different adventure the same day: Zip Lining, Axe Throwing, Laser Tag, High Ropes, and Escape Rooms. (Some attractions have age and weight restrictions.) No time that day? Make reservations and come back another day for more boy scouting fun.
And you'll want to come back at night for Spookywoods and our Kersey Valley Express haunted train ride. Plus, we have souvenir patches available for purchase: Gem Dig, Zip Line, and Corn Maze.
Ready for a Boy Scout Corn Maze Adventure?

Skip the Line! Click here for more information & book your advance Maize Adventure tickets!
And while you're here, be sure to check out our many other family adventures—or start planning your next visit now!
Year-Round
Zip Line
Indoor & Outdoor Axe Throwing
Escape Rooms
Laser Tag
Bee Education Center
Jumping Pillows
Fall
Corn Maze
Kiddie Zip Line
Pumpkin Patch
Gem Dig
Spookywoods