Do you want to plan a fun and unique activity with your friends, family, or significant other? If you're a gaming fan, venture to the great outdoors and see if you can solve the ultimate puzzle: a corn maze! Challenge yourself and others to a real-life gaming experience you will remember for years. Here are five reasons why gamers love corn mazes.
#1: Corn Mazes Are a Challenging and Fun Group Activity
It's a question that has plagued gaming fans for years. "What can I do to step away from the screen and have some fun?" Visiting a corn maze is a great way for gamers to get together and spend time with friends who share their love of gaming!
Corn mazes are fun because they require brain power and physical activity to navigate your way through. You have probably seen a corn maze or field in one of your favorite movies or TV shows, so why not get outside and experience one for yourself? Working together to weave through the intricate grid patterns, you'll have a blast.
#2: You Can't Get Lost… Or Can You?
Making your way through a maze requires concentration, which can also make you a better gamer. You have to think about how to get through the maze without getting lost or making too many wrong turns. And you have to keep your eye on the prize (the exit) to earn bragging rights!
There's no better place to enjoy a corn maze in NC than Kersey Valley Attractions!
If you're a gaming fan, you'll love the escape room too! Book your tickets HERE today.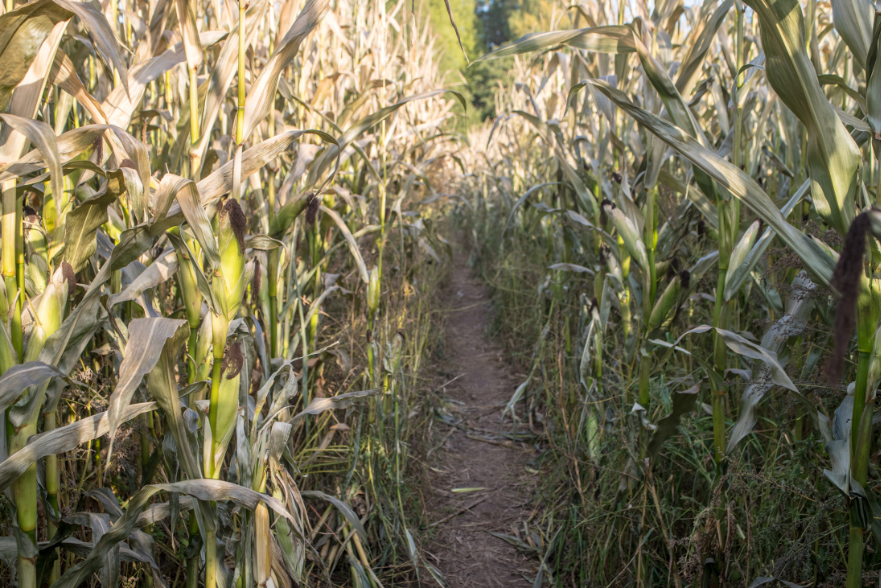 #3: Visiting a Corn Maze Is Good for Your Health
There's a lot more to corn mazes than just solving a puzzle. Visiting a corn maze is good exercise! You'll need to walk around to find your way out, and in less than an hour, you can even burn up to 200 calories.
Plus, you'll enjoy plenty of fresh air and sunshine, which can boost your mood, reduce stress, and help your immune system.
#4: Your Whole Family Will Have Fun
Corn mazes offer plenty of fun for the whole family. There are so many things to do and see at Kersey Valley that you won't have time to get bored.
Whether you're with your parents, grandparents, kids, or on your own, everyone will enjoy a corn maze! And if you come to Kersey Valley, you can bring your furry family members too. Well-behaved dogs are always welcome here.
#5: More than Just a Corn Maze, Kersey Valley Is a Gaming Fan Paradise!
Kersey Valley is the perfect place for gamers because it has many game-like activities. You can try your hand at ax throwing, laser tag, rock climbing, gem mining, and more. Plus, you can jump on the oversized jumping pillows, ride the Kersey Valley Express, and go down the mega slide.
Kersey Valley is a dream come true for a gaming fan. So, step away from the screen, get outside, and have fun. While you're here, pick up a pumpkin and enjoy some cider donuts and kettle corn too!
You don't have to spend your fall stuck behind a screen! Instead, enjoy a one-of-a-kind 3-D game at Kersey Valley.
Book Your Tickets NOW and Skip the Lines!