Corn mazes are a beloved tradition of fall, but they can also cause fear and anxiety for some. With towering stalks, twists and turns, and dead ends at nearly every corner, it's easy to get lost and disoriented.
Luckily, with a few tips and tricks, you can navigate any corn maze . So, consider this your go-to guide if you want to learn how to survive a corn maze.
Keep reading for six great tips, including corn maze rules, what to do if you get lost, and how to get out of a corn maze. Then, gather your friends and family and get lost in the magic of fall!
Are Corn Mazes Scary?
Most corn mazes are designed for family-friendly fun, with themes and activities to keep trekkers of all ages engaged and entertained. Corn mazes are perfectly safe, and staff members are always available to assist visitors. So, if you're considering visiting a nearby corn maze this fall, don't let the fear hold you back from this fun fall tradition.
Do you know how to survive a corn maze?
Test your skills at Kersey Valley!
How to Survive a Corn Maze: 6 Quick Tips
Surviving a corn maze involves preparation, strategy, and a positive attitude. Follow these six great tips and you'll easily navigate any corn maze and have a fun and memorable experience.
Come prepared. Before you head out to a nearby corn maze, make sure you have the right gear. Wear comfortable, closed-toe shoes. Dress for the weather and bring water, bug spray, and sunscreen.
Study the layout. Take a few minutes to study the trees around the maze before you start. Look for landmarks like the zip line towers and bridges to orient yourself.
Follow the right-hand rule. As you navigate a corn maze, always follow the right-hand rule. Stick to the right-hand side of the maze and follow it all the way around.
Stay calm. If you do get lost, don't panic. Remember, corn mazes are designed to offer a fun challenge, and help is always nearby.
Ask for help if you need it. What happens if you get lost in a corn maze? If you need help finding your way out, feel free to ask for help. Kersey Valley's staff members are stationed throughout the maze to assist you.
Have fun. Are corn mazes fun? Absolutely! Bring friends, your date, or family members, and make a day of it. And don't worry! Corn mazes aren't typically scary. But if you start to feel anxious, take a deep breath and remind yourself it's all just for fun.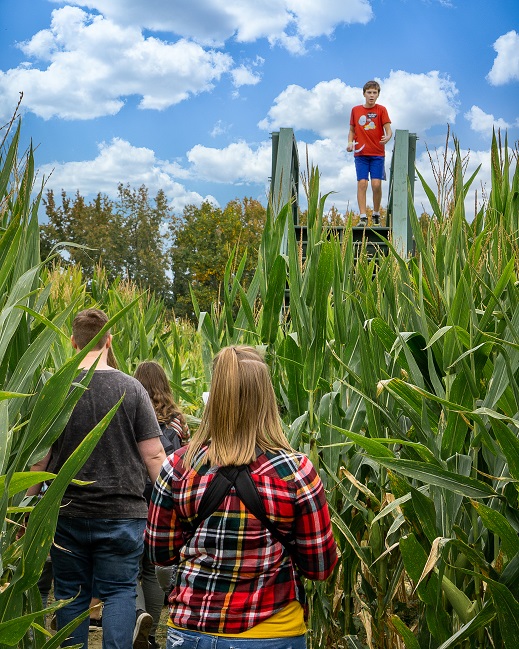 Follow the Corn Maze Rules, So Everyone Has Fun
Round up your kids or friends and head out to the nearest corn maze this fall – and don't forget to follow these rules to stay safe and have a blast!
Please…Don't pick corn or break down stalks.
Don't go off the paths (between rows) or trample the corn stalks.
Don't leave trash.
Don't run.
Stay with your group.
Don't smoke in the maze.
Now You Know How to Survive a Corn Maze, So Come Visit Us at Kersey Valley!
Now that you know how to escape a corn maze, you can experience the fun and excitement of a visit to Kersey Valley's Maize Adventure! Whether you're looking for a family-friendly activity or a fun fall adventure with friends, Maize Adventure is the place to go!
While you're here, enjoy dozens of other attractions, like laser tag, our pumpkin patch, interactive playgrounds, super megaslides, and so much more. There's fun for everyone at Kersey Valley.
I'm ready for fall fun!